Classes are convenient and offered in 1 hour sessions once a week, anywhere in the Greater Dallas/Fort Worth Metroplex. They are insightful, creative, and effective… and over 80% of our students pass their Puppy S.T.A.R. and Canine Good Citizen evaluation on the first try!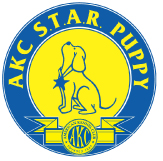 S.T.A.R. Puppy
The AKC S.T.A.R. Puppy is an exciting new program designed to get dog owners and their puppies off to a good start. The AKC S.T.A.R. Puppy Program is an incentive program for loving dog owners who have taken the time to take their puppies through a basic training class.
Training classes teach you how to best communicate with your puppy. Organized training classes also provide an opportunity for your dog to socialize with other dogs. In classes aimed at earning the AKC S.T.A.R. Puppy distinction, you'll be able to get information on all of your puppy-raising questions including housetraining, chewing, and the most effective way to teach practical skills such as coming when called. AKC S.T.A.R. Puppy training is a natural lead in to the AKC® Canine Good Citizen® Program. more info…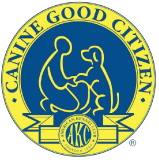 Canine Good Citizen
The purpose of the CGC Program is to ensure that our favorite companion, the dog, can be a respected member of the community because it has been trained to be well-behaved in the home, in public places, and in the presence of other dogs. The CGC Program welcomes purebred and mixed-breed dogs. The CGC Test is noncompetitive, and dogs are not required to perform with the same precision required in formal obedience.
Dogs that pass all 10 items of the CGC Test, including purebreds and mixed breeds, are listed in the CGC records at the American Kennel Club (AKC). Owners of dogs that pass all 10 items of the CGC test may order an official CGC certificate from the American Kennel. 
more info…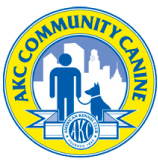 Community Canine
AKC Community Canine is the advanced level of AKC's Canine Good Citizen (CGC) program. As with CGC, AKC Community Canine has a 10-step test of skills that dogs must pass to earn the official AKC Community Canine title. This is a title that appears on the dog's title record at AKC.
All skills on the test are tested on leash. The AKC Community Canine (CGCA) test may be done in a class, at shows, in pet stores or in the community. When the test is administered in community settings such as at a business or special event, evaluators must have the necessary approval of the business owners, etc. more info…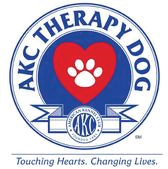 Service Title
Therapy dogs are dogs who go with their owners to volunteer in settings such as schools, hospitals, and nursing homes.
From working with a child who is learning to read to visiting a senior in assisted living, therapy dogs and their owners work together as a team to improve the lives of other people. Therapy dogs are not service dogs. Service dogs are dogs who are specially trained to perform specific tasks to help a person who has a disability. The purpose of this program is to recognize AKC dogs and their owners who have given their time and helped people by volunteering as a therapy dog and owner team. AKC Therapy Dog titles can be earned by dogs who have been certified by AKC recognized therapy dog organizations and have performed the required number of visits.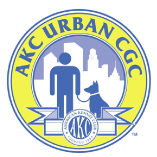 Urban Canine
AKC Urban CGC is a title in the Canine Good Citizen family of awards. All skills in the test are tested on leash. AKC Urban CGC should be administered in a place where there are cars, streets to be crossed, noises, and distractions. This test is administered in the real world; the goal of AKC Urban CGC is to test the dog's skills in an urban (city) setting. To earn the AKC Urban CGC title, dogs must already have a Canine Good Citizen certificate or title on record at AKC. The dog must have an AKC number of one of 3 types (AKC registration number, PAL number, or AKC Canine Partners number). All dogs, including mixed breeds, can get an AKC number.
A well-behaved dog is a joy to live with, and proper dog training helps ensure that your pup can participate in almost everything you do together."